Kimchi is a fermented food made by mixing vegetables such as cabbage, radish, and cucumber with various seasonings (red pepper powder, garlic, ginger, green onion, radish, etc.).
* If kimchi is fermented quickly, it may become sour due to lactic acid, but it is never spoiled.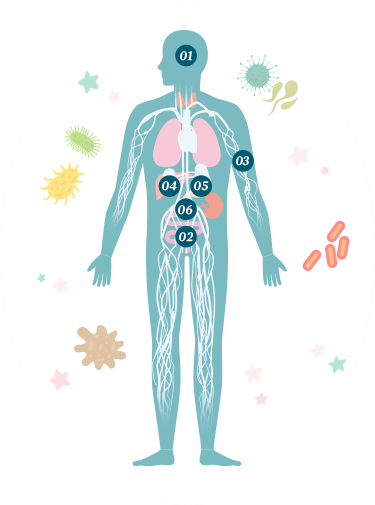 01. Immunity boost and virus suppression
* Publication : Scientific Reports (01.2017)
Kimchi lactic acid bacteria are live probiotics that clean the intestine and help improve immunity. It also produces vitamin B that are helpful for neuralgia and fatigue recovery.
02. Antioxidant (anti-aging) effect
* Publication : LWT 128 (06.2020)
Vegetables and seasonings in kimchi act as antioxidants in our body, and form new collagen to inhibit skin aging. Kimchi that has been well fermented and matured has higher antioxidant properties than kimchi made directly.
03. Prevention of constipation, enteritis and colon cancer
* Publication : Foods 9(2), 181(02.2020)
Lactic acid produced by fermentation of kimchi and the dietary fiber of kimchi ingredients prevent constipation. In addition, it suppresses the occurrence of colon cancer by reducing microbial enzymes that are converted into carcinogens.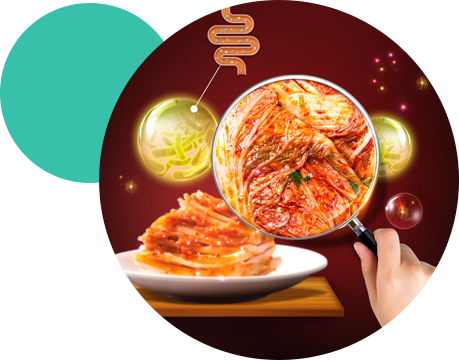 04. Prevent cholesterol and hardening of the arteries
* Publication : LWT 116 (12.2019)
Eating kimchi reduces bad cholesterol and increases good cholesterol, improving arteriosclerosis and blood flow.
* Publication : Molecular Nutrition & Food Research 62(24), 1800329 (10.2018)
The capsaicin in chili peppers is effective in diet by aiding digestion and increasing basal metabolism. The dieting benefits of Kimchi are more effective when moderately cooked than raw or overcooked.
06. Cancer prevention effect
* Publication : Journal of Medicinal Food 17(1), 6-20 (01.2014.)
Kimchi has cancer prevention effects by increasing antibody production in the intestine and inhibiting tumor formation. In particular, garlic is effective in preventing stomach cancer, and ginger is also effective against cancer.